July 8, 2019
Posted by:

Prinston Jean-Glaude

Category:

Health Articles, Living Healthy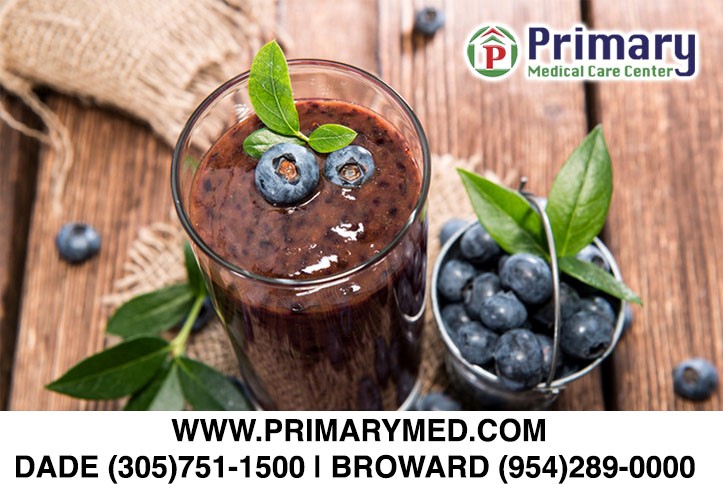 Today, July 8, 2019 has been declared National Blueberry Day by the organization, Holiday Insights. The purpose of this day is to recognize the amazing health benefits of this tasty berry that is loaded with fiber and rich in antioxidants. According to the Blueberry Council, "Blueberries are also a good source of dietary fiber. Dietary fiber may reduce the risk of heart disease and adds bulk to your diet, which may help you feel full faster."
Healthline lists the following among the health benefits of eating blueberries:
They are low in calories and high in nutrients.
They are a superior antioxidant food which protects the body from free radicals.
They reduce DNA damage, thus offering protection against aging and cancer.
They protect cholesterol in the blood from becoming damaged.
They may help prevent heart disease by lowering blood pressure and oxidized LDL cholesterol.
They help maintain brain function and improve memory.
Anthocyanins in blueberries may have anti-diabetes effects.
They may help fight urinary tract infections.
They may reduce muscle damage after strenuous exercise.
To schedule an annual physical at any of our convenient Primary Medical Care Center community clinics, you may visit our website at www.primarymed.com, or call (305)751-1500 for our Miami-Dade clinic, or (954)289-0000 for our Broward clinic.
Source: https://www.blueberrycouncil.org/blueberry-nutrition/health-benefits-blueberries/
http://holidayinsights.com/moreholidays/July/national-blueberry-day.htm
https://www.healthline.com/nutrition/10-proven-benefits-of-blueberries
Comments
comments