Cardiology Services for Seniors in South Florida - Miami, Broward, Palm Beach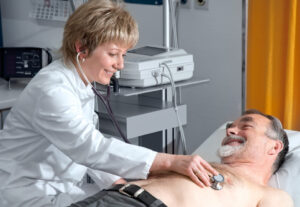 Primary Medical Care Center offers premier cardiology services for seniors in South Florida. Cardiovascular disease is always a greater risk amongst seniors. That is why seniors must have their heart health monitored regularly. It is the best way to prevent and diagnose congenital heart issues to be treated accordingly.
Failure to monitor your heart health could lead to more severe conditions, such as heart failure, heart attack, stroke or coronary artery problems. Stop these conditions before they start. Book an appointment with our cardiologist today.
Call (305) 751-1500 or use our contact form here.
Top-Rated Cardiology Services for Seniors in South Florida
Our cardiology services for seniors have received praise from patients all over South Florida. They have grown to trust and depend on our diagnoses, treatments and self-care tips as they pertain to good heart health. We try to maintain communication with our patients as much as possible. It is the best way to ensure that patients stay on the right track with their heart health.
Cardiology pertains to all aspects of your health. We have highly sophisticated technology to monitor, diagnose and treat your heart-related illnesses. Our range of cardiology services include:
Cardiac rehabilitation
Stress tests
Stenting
Anti-coagulation management
Echocardiography
Electrocardiogram
Heart rhythm analysis
Primary Medical Care Center has offered cardiology services to seniors in South Florida for more than 5 years. Our cardiologists and nurses are all very caring and considerate to our senior patients. We want to make sure they receive the most accurate cardiologic diagnoses and treatments possible. That way, the patient can enjoy a nice long and active life with a healthy heart.
Why You Should Choose Our Cardiology Services in South Florida 
Cardiology consultation and treatment sessions are usually continuous requirements. Seniors cannot afford to go without cardiological checkups. Cardiology examinations are the best way to catch heart disease before it gets worse. The sooner a heart problem is addressed, the better chance you'll have of preventing it from getting worse.
The number one reason why some seniors don't visit a cardiologist is due to the expense. Well, the good news is that cardiology services don't have to be expensive. Primary Medical Care Center has partnered with many of the best carriers in South Florida. We accept most of their plans to cover our cardiology services. You'll only be responsible for the co-pay if any.
Here are some of the insurance carriers we accept:
Medicare
Allwell
MMM of Florida
AvMed
Sunshine Health
Medica Healthcare
Florida Blue
Preferred Care Partners
Aetna
Do you have any of these insurance carriers? How about another carrier? Either way, feel free to give us a call anyway. We'll be happy to discuss your current cardiovascular condition and the best steps you can take to receiving affordable treatment for it.
We Have the Best Cardiologists for Seniors in South Florida
Primary Medical Care Center employs some of the very best cardiologists in the industry. They have all gone through a vigorous training process at accredited medical schools to become licensed cardiologists. You can rest assured that you and your heart will receive professional and reliable treatment.
Physical activity is essential for good heart health. The cardiologist will recommend which physical activities are healthy enough for your heart to handle. We will never recommend strenuous physical exercise that could damage your heart health. Your short-term and long-term wellbeing are our number one priority.
Are you ready to book your appointment and learn more about how to improve your heart health? Call us at (305) 751-1500 or use our contact form here.