Primary Medical Care Center for Seniors Miami Beach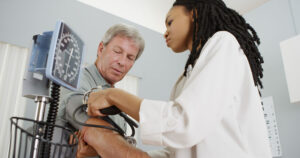 Primary Medical Care Center is a completely insured, experienced, skilled, and staffed senior medical center in Miami Beach, Florida. All our staff members include a team of qualified and dedicated doctors, medical assistants and nurses. The primary goal of our medical team is to provide professional care to senior patients and improve their quality of life in any manner possible. We can do the same for you or your loved one too.
We've spent decades serving the seniors of Miami Beach. Primary Medical Care Center has a superb record of senior patient satisfaction. Our reputation throughout the community is unmatched by any other senior medical center in Miami Beach. Every senior who makes an appointment with our doctor will receive an individual comprehensive examination. This helps us learn more about the senior's health status. That way, our team can recommend the best treatments for that senior patient in the future.
Are you interested in scheduling an appointment to speak with one of our doctors or specialists? Conduct the staff of our senior medical center at (305) 751-1500 or use our contact form here.
Renowned Senior Medical Center in Miami Beach
Primary Medical Care Center aims to please all seniors who seek our medical services in Miami Beach. We have operated a state-of-the-art senior medical facility for more than two decades in counting. Every senior that has received care at our facility has left feeling happy and optimistic about their experience. Not only do we strive to diagnose and treat medical conditions, but we also give medical advice to senior patients so they can learn how to take better care of themselves too.
We offer many different senior care services in Miami Beach. You can schedule an appointment to see a doctor who specializes in any one of these disciplines. They include:
Emergency care
On-site medication distribution
General primary health care
Comprehensive wellness plan
As you can see, we offer an array of treatment options for seniors that cover a variety of health conditions and ailments. The primary care doctor will give you a full examination and then recommend the best treatment options moving forward. The best part is that our facility has all the necessary senior care specialists in it. You won't have to find a third-party specialist somewhere else. We can satisfy your healthcare needs all in one place.
Why You Should Choose Our Senior Medical Center in Miami Beach
Primary Medical Care Center should be your top choice for a senior medical center in Miami Beach. We have some of the best medical professionals and most affordable services for senior care in South Florida. Since most seniors receive a passive or fixed income, seniors must have affordable care services.
You'll be happy to know that we accept most insurance plans. We have partnered with the following carriers:
Allwell
Preferred Care Partners
MMM of Florida
AvMed
Medicare
Sunshine Health
Medica Healthcare
Florida Blue
Aetna
You can maximize your senior care savings at our facility. Between insurance coverage and our affordable services, you can receive the best quality care without going broke. In addition, primary Medical Care accepts emergency visits at any time of the day in case you have a medical issue that must get addressed immediately. 
Best Doctors for Seniors in Miami Beach
The best nurses, doctors and medical professionals in Miami Beach can be found at Primary Medical Care Center. Our long history and experience in the community make us the most trustworthy senior care center in the city. Contact our medical office today and learn more about our excellent senior care services. Call (305) 751-1500 or use our contact form here.