Preventive Medicine for Seniors in South Florida - Miami, Broward, Palm Beach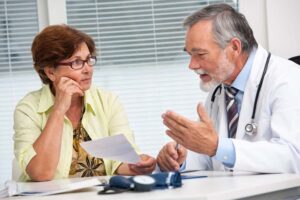 Preventive medicine is one of the best ways to ensure good health. Don't wait until a debilitating illness or injury strikes before you start taking your health seriously. Not only is preventive medicine an intelligent choice, but it is also a more cost-effective choice for your health care.
Think about how much it costs to receive medical treatment at hospitals and clinics. When people suffer health problems, they usually could have been prevented if the necessary preventive actions had gotten taken.
Preventive health care is so much better than medical treatment because you don't have to recover from anything. All you have to do is preserve your current health and stop it from getting worse. We can help you achieve this goal.
Primary Medical Care Center employs a team of preventive medical practitioners and specialists to help seniors stay healthy and strong. Our work has already helped countless numbers of seniors achieve a much better quality of life. Now we can do the same for you or your loved one.
The first step is to make an appointment to visit our medical facility in South Florida. Call (305) 751-1500 or use our contact form here to schedule the appointment.
High-Rated Preventive Medical Doctors for Seniors in South Florida 
Seniors can do a lot to prevent themselves from getting the most common physical and mental conditions.
When you visit Primary Medical Care Center for preventive services, we'll conduct a series of tests and evaluations to determine the current state of your health. The results can tell us how likely you are to develop certain diseases that most commonly affect seniors, such as hypertension, heart disease, and arthritis.
Our preventive medical doctors will recommend lifestyle changes and simple health treatments to prevent the development of high-risk diseases in your body. Aside from just recommending diet and exercise, we can connect you with nutritionists and home health aides to assist you with these important preventive healthcare activities. 
Live Longer with Preventive Medicine for Seniors in South Florida
If you are a presumably healthy senior right now, then you should still make an appointment to visit our team of doctors. Just because you are healthy now, it doesn't mean you will stay healthy forever. You never know when cancer or high blood pressure might strike and cause you to develop unwanted symptoms or threats to your life.
We recommend that all seniors make regular appointments for medical checkups at Primary Medical Care Center. Seniors must be continuously tested for high blood pressure, cancer, diabetes, high cholesterol, and imperfect heartbeat. These are all things that can lead to disease or sometimes even death.
Are you worried about the expenses associated with preventive medicine? If you currently have a health insurance plan, you may be entitled to partial or complete coverage for preventive medicine services.
In fact, many health insurance carriers are more than willing to pay for 100% of their policyholders' preventive care. That way, it reduces the chances of the policyholders becoming sick, which would cost the insurance companies a lot more money in the end.
Primary Medical Care Center accepts the following insurance carrier plans:
Medicare
AvMed
Aetna
Preferred Care Partners
MMM of Florida
Medica Healthcare
Florida Blue
Sunshine Health
Allwell
Preventive care is easily available to you. All you need to do is pick up the phone and make that appointment to get started with your consultation.
Best Preventive Medicine Specialists for Seniors in South Florida
There is no better time to take your health seriously than right now. Preventive care can ensure that you live a long and healthy life without incurring too many expensive health problems.
Primary Medical Care Center has offices in the following cities:
Aventura
North Miami
Pembroke Pines
Call (305) 751-1500 or use our contact form here to make your appointment today.