Primary Medical Care Center for Seniors Miami Lakes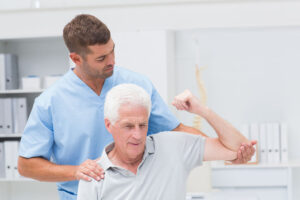 Primary Medical Care Center has over two decades of experience in treating seniors in Miami Lakes. We offer many helpful and effective senior treatment services, such as physical examinations, health management, and treatment applications. Seniors of any age, race and gender are welcome to visit our facility in Miami Lakes.
Do you feel healthy? Do you lack any symptoms? If so, you should still make an appointment to see our doctors in Miami Lakes anyway.
Many seniors develop hidden medical conditions that don't reveal themselves until they get progressively worse. But if you receive a physical examination from our medical team, we can detect and diagnose any particular hidden medical condition that you may have right away. If a condition is detected, we can take steps to treat it before you develop severe symptoms.
Our senior medical center offers the following medical services to seniors:
Emergency care
On-site medication distribution
General primary health care
Comprehensive wellness plan
There is no time to wait. Seniors should receive regular physical examinations to ensure their health remains strong and vibrant. Schedule an appointment for an examination today by calling (305) 751-1500 or use our contact form here.
Popular Senior Medical Center in Miami Lakes
Primary Medical Care Center is a popular senior medical center in Miami Lakes for a reason. We've spent the last 7+ years examining, treating, and advising senior patients to make them as healthy as possible. Our staff members and doctors show empathy and care to all senior patients suffering from medical issues. We do everything we can to preserve the lives of our senior patients and improve their quality of life in the process.
Preexisting conditions don't disqualify you from our services. In fact, most of the new senior patients we treat come to us with underlying medical conditions. That is fine because we accept and offer equal quality treatment to all senior patients regardless of their current health status. We'll even provide you with education and tips on improving your health and preventing illnesses and diseases.
Why You Should Choose Our Senior Medical Center in Miami Lakes
Not all health emergencies require an expensive visit to the emergency room at your local hospital. Some emergencies can be treated at the Primary Medical Care Center for a much more affordable price. Our team of primary care physicians, cardiologists, emergency physicians, behavioral health specialists and other medical professionals can all address your emergency at our facility.
There is no need to make an appointment if you have an emergency. We accept walk-in visits from people who need help immediately. It is a great way to avoid expensive hospital fees and overpriced administrative costs.
Primary Medical Care Center accepts health insurance too! Here are some of the plans we accept:
Medicare
AvMed
Florida Blue
Aetna
Sunshine Health
Medica Healthcare
Allwell
Preferred Care Partners
MMM of Florida
Contact us if you have questions about whether your current insurance plan is accepted here. Call (305) 751-1500 or use our contact form here.
Best Doctors for Seniors in Miami Lakes
Seniors can trust Primary Medical Care Center to care for their common and uncommon healthcare needs. Our vastly diverse team of medical professionals is equipped to treat many medical issues within one facility. Not only does this reduce your medical costs, but it allows you to receive faster and more accurate treatment too. No other senior medical center in Miami Lakes offers so much quality, speed and affordability for senior care.
Call (305) 751-1500 or use our contact form here to find out more information.