Nutritionist for Seniors in South Florida - Miami, Broward, Palm Beach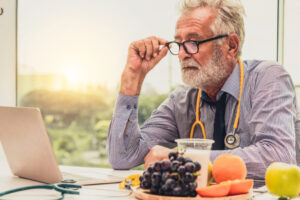 Primary Medical Care Center has a team of licensed nutritionists who can offer you professional nutritional advice to improve your overall health. Everything you eat has an impact on your health. It is crucial to receive sound advice regarding all the food and beverages you consume each day. If you can learn to make a few simple changes to your daily diet, it could go a long way in expanding your life and making you feel better.
Are you interested in receiving a free consultation with one of our licensed nutritionists for seniors in South Florida? Call (305) 751-1500 or use our contact form here.
Top-Rated Nutritionists for Seniors in South Florida 
Our top-rated nutritionists offer more than just nutritional tips for seniors. If you've been diagnosed with a disease or medical condition, such as heart disease or diabetes, we can recommend the best foods to consume to treat those conditions.
Every medical condition has specific dietary requirements to alleviate its symptoms. For example, diabetes is a common health problem amongst seniors in South Florida. Some of the best foods to eat for people with diabetes include leafy greens, fatty fish, avocados, Greek yogurt, and beans. Food is the key to life and the key to overcoming most illnesses. Let our nutritionists guide you on this path.
Primary Medical Care Center includes a variety of medical specialists who collaborate to serve our patients better. We have nutritionists who consult with primary care physicians and vice versa to understand our patients' health problems better. This kind of collaboration amongst multiple experts in one facility is why we have one of the highest patient satisfaction rates in South Florida.
Why You Should Choose Our Nutritionists in South Florida 
We realize that several licensed nutritionists practice in South Florida. However, it would help if you chose the nutritionists of Primary Medical Care Center because of our established reputation in the region. You can trust our nutritionists to give you the facts about your health and the foods you should start eating to feel better.
You'll receive an entire daily nutritional meal plan. If you can follow the meal plan closely, you should notice an improvement in your overall health. Most of our patients see these results after a few short weeks. We're confident you will be pleased with the food recommendations we make to you.
Here is a complete list of the benefits of visiting our nutritionists for a consultation:
Weight management
Chronic disease management
Food allergy education
Food sensitivity education
Nutritional recommendations
Visiting a nutritionist is not like going to the gym and taking advice from a physical trainer. Nutritionists receive extensive training in the field of nutritional health and science. They understand the various food groups and how they body responds to different foods after consumed.  
As a senior, you must take nutritional advice from an expert who knows what they are talking about in this field. We have licensed and certified nutritionists who have several years of experience in this field. Don't trust someone on the internet for nutritional advice because you have no way to verify their credentials.
When you come to Primary Medical Care Center, you can see our credentials for yourself. We are a registered medical facility with teams of licensed doctors and specialists. We operate the cleanest and most professional medical center in South Florida. You can trust all the advice we have to give you.
We Have the Best Nutritionists for Seniors in South Florida
Primary Medical Care Center wants senior patients to feel comfortable asking for nutritional advice. We know there is nothing more critical to sustaining good health than practicing good nutrition. That is why our nutritionists provide free nutritional and dietary counseling to help guide as many seniors as possible on a path to better health.
Call (305) 751-1500 or use our contact form here to book an appointment with a nutritionist at our facility.