Skilled Nursing for Seniors in South Florida - Miami, Broward, Palm Beach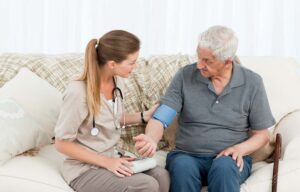 Primary Medical Care Center provides skilled nursing services for seniors in South Florida. Our skilled nurses are licensed nurses who specialize in various fields of senior care and rehabilitation. We offer part-time and full-time skilled nursing care to seniors who suffer from debilitating medical conditions and struggle to take care of themselves.
The process starts with a complete evaluation of your medical condition and its symptoms. Your primary care physician will advise you on which treatments and medications can reduce the symptoms. Skilled nurses are available to monitor the condition and administer the treatments at the appropriate times if you cannot do so yourself.
Find out more about our skilled nursing services for seniors in South Florida. Call (305) 751-1500 or use our contact form here.
Highly Skilled Nursing for Seniors in South Florida 
Primary Medical Care Center employs highly skilled nurses for seniors in South Florida. We offer several skilled nursing services which cover the most common needs of senior patients. These services include:
Evaluations and Diagnoses
Medication Distribution and Injections
Occupational Therapy
Speech Therapy
Physical Therapy
Wound Care
Intravenous Therapy
Catheter Care
Monitor Vital Signs
We operate a professional team-based medical facility. Our skilled nurses collaborate with the various medical professionals we have on staff to provide the best quality short-term and long-term care to our senior patients. That way, you can rest assured that you are receiving the proper treatment to ease your symptoms and mitigate your medical problems. 
The Premier Choice for Skilled Nursing Services in South Florida
South Florida has no shortage of nursing service providers and medical facilities. However, Primary Medical Care Center stands out from the rest because of our exceptional dedication to senior care. If you are recovering from an accident or require home care assistance, our nurses will make sure your needs get met.
Don't worry about the cost of our skilled nursing services. Health insurance companies will usually cover skilled nursing services on the policies they sell to customers. If you have health insurance, check your policy to see if it covers recovery or long-term care services. They typically fall under the category of skilled nursing services.
Here are the primary insurance carriers we accept:
Medicare
AvMed
Aetna
Preferred Care Partners
MMM of Florida
Medica Healthcare
Florida Blue
Sunshine Health
Allwell
Do you have questions about your insurance coverage? Contact our customer support team if you have questions about whether your insurance plan will cover our skilled nursing services. Most insurance plans will cover them if you have a severe illness or injury and require a nurse for rehabilitation assistance.
The Most Skilled and Experienced Nurses for Seniors in South Florida
Primary Medical Care Center hires the most skilled and experienced nurses for seniors in South Florida. These nurses and medical professionals include registered nurses, certified nursing assistants, and home health aides. Our entire team works together to improve the health and lifestyle of our senior patients.
We have offices in the following South Florida cities:
Aventura
North Miami
Pembroke Pines
Don't let your condition keep you down. Skilled nursing has the potential to restore your confidence and quality of life. It is a service enjoyed by thousands of seniors throughout South Florida. Some seniors end up making a full recovery after getting help from our skilled nurses. It all depends on your particular condition and your willingness to want to get better. 
Call (305) 751-1500 or use our contact form here to book an appointment with our skilled nursing staff. We can provide assistance to you at your house or one of our facilities.