Acupuncture for Seniors in South Florida - Miami, Broward, Palm Beach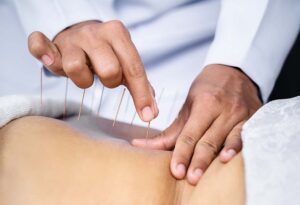 Acupuncture is an effective form of alternative medical treatment. It has been used in East Asian medical practices for hundreds of years. Now we bring this treatment philosophy to South Florida at Primary Medical Care Center.
The purpose of acupuncture is to relieve anxiety, swelling, sleep issues, neck pains, nausea, muscle tension, and other stress-related problems throughout the body. The acupuncturist inserts a series of thin needles into specific points of the patient's body.
After the needles are inserted into these points, they will cause a natural biochemical reaction to stimulate the brain, muscles, and spinal cord. The entire central nervous system produces healing chemicals that circulate throughout the rest of the body. It is believed to create both emotional and physical benefits for the patient.
Acupuncture is not an official form of medicine in the western world. However, a growing number of seniors are choosing acupuncture as a healthier treatment alternative for their pains and stresses. They want to reduce their intake of prescription medications and avoid the side effects associated with them.
The great thing about acupuncture is that it has no real side effects. You just need to receive the treatment from an experienced and professional acupuncturist. They understand how and where to insert the needles without damaging the nerves.
Primary Medical Center has licensed and highly skilled acupuncturists ready to serve all South Florida seniors. If you'd like to make an appointment for a consultation, call (305) 751-1500 or use our contact form here to find out more information.
Skilled Acupuncturists for Seniors in South Florida 
Primary Medical Center is one of the few medical practices in South Florida to offer acupuncture services. Our skilled acupuncturists have studied the ancient Chinese philosophies and techniques associated with acupuncture. We know where to target the central nervous system to induce the appropriate biochemical response and reduce your symptoms.
Seniors who want to give up their medications are finding hope through acupuncture. Of course, you should always consult with your primary care physician before you stop taking any existing medications you are on.
There is no scientific evidence to confirm the medical benefits of acupuncture. But many senior patients who've received acupuncture treatment have experienced fewer symptoms of pain and anxiety.
Perhaps you can experience the same benefits too. You have nothing to lose by trying it out. The worst-case scenario is that you end up in the same condition you are in right now. 
The Premier Choice for Acupuncture Services in South Florida
Primary Medical Care Center is the premier choice for acupuncture services in South Florida. All our acupuncturists have undergone the necessary training to perform the procedure accurately and professionally. It is crucial to visit a licensed acupuncturist because acupuncture requires precision and knowledge of the body's most sensitive points.
Many of our senior patients choose acupuncture to reduce the following symptoms:
Arthritis pain
Depression
Insomnia
Stress and anxiety
Mouth disorders
Eye disorders
Respiratory issues
Some patients simply don't want to take medication because they are afraid of the side effects. If you want to avoid unnatural medications or find your existing medications to be ineffective, then you should definitely try acupuncture as another option.
The Best Acupuncturists for Seniors in South Florida
Acupuncture is meant to compliment your existing primary medical treatment at Primary Medical Care Center. If you don't already have a primary care physician, please make an appointment to see one immediately. A full examination will determine whether acupuncture treatment could possibly benefit you at all.
You can schedule an appointment to see a physician or acupuncturist at our offices in any of the following cities:
Aventura
North Miami
Pembroke Pines
Are you ready to get started? Call (305) 751-1500 or use our contact form here.