Case Management Services for Seniors in South Florida - Miami, Broward, Palm Beach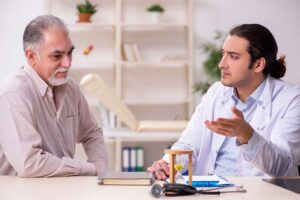 Primary Medical Care Center doesn't just treat medical conditions relating to physical health. We also focus on the individual patients and their mental and social health as well.
Society has a growing number of people suffering from social issues and mental health disorders. We believe addressing these issues can improve the quality of their lives and the communities in which they reside.
Our case managers can work with each patient and their family members to resolve whatever social, physical or mental issues affect their lives. These could be issues related to living conditions, family situations, transportation, or primary healthcare needs.
Seniors are the most at risk of experiencing these types of issues. Since many elderly South Floridians live alone or without close family members nearby, they end up having to deal with these issues alone.
Fortunately, we have case managers who can work with any senior in South Florida suffering from a physical or mental condition. All you need to do is make an appointment to get started. Call (305) 751-1500 or use our contact form here.
High-Rated Case Managers for Seniors in South Florida 
Primary Medical Care Center has some of the highest-rated case managers for seniors in South Florida. We look at every aspect of a senior's health and living conditions to determine the best treatment and living care solutions for them.
Our case management services include a combination of evaluating, planning, and monitoring the conditions and needs of our senior patients. Based on our analysis, we will recommend the best treatment resources and options to improve their quality of life. That might include one of the following solutions:
Scheduling regular nursing and home health aide services.
Arranging for transportation to doctor's appointments and other essential errands.
Assisting with overall living conditions and family situations.
Our number one priority is the health and safety of our senior patients. We especially want to make sure they are not the victims of abuse or neglect. These situations happen way too often to seniors in South Florida. Part of our job as case managers are to protect the health and rights of seniors. It is what we have been doing for over 20 years and will continue to do so. 
Our Case Management Services Are a Team Effort
Primary Medical Care Center is a collaborative environment. Our team of professionals include case managers, physicians, social workers and community service providers. We all collaborate to offer the best advice and guidance to our senior patients.
If you already receive medical treatment at our facility, your current doctors will collaborate with our case managers to ensure you receive sound advice. That is why we encourage all our senior patients to choose Primary Medical Care Center for all their medical care needs.
Do you have issues with your health insurance claims or hospital bills? If so, we can advise you on how to negotiate with hospitals to reduce your medical debts. And if your insurance company is giving you problems, we can provide you with help and resources to help you get the coverage owed to you.
Best Case Managers for Seniors in South Florida
Primary Medical Care Center employs some of the best and most experienced case managers for seniors in South Florida. We prioritize the health and wellness needs of our patients to increase their quality of life.
Visit our offices in any of the following cities:
Aventura
North Miami
Pembroke Pines
Are you ready to make an appointment with a case manager? Call (305) 751-1500 or use our contact form here to begin the process.