Primary Care Medical Doctors for Seniors in Dania Beach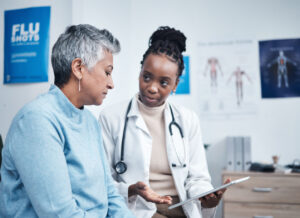 Primary Medical Care Center is the preferred medical care provider for thousands of seniors in Dania Beach and South Florida. Our physicians and medical professionals have the credentials, specialized knowledge, and experience to treat seniors suffering from various diseases, illnesses, and injuries.
Dr. Jean B. Pierre, M.D., and Dorothy Pierce, ARNP, are the founders and head managers of the Primary Medical Care Center. They bring over 30 years of professional healthcare experience to their senior care facility in Dania Beach. They aim to create an environment where seniors can feel comfortable seeking preventative care, yearly checkups, treatments, diagnoses, and non-life-threatening emergency care.
The senior care services offered include the following:
Preventive Medicine
On-site Diagnostic Testing
Cardiology
General Primary Health Care
Acupuncture
Case Management
Comprehensive Wellness Plan
Behavioral Health
On-site Medication Distribution
Emergency Care
Florida seniors are more likely to suffer from diseases, injuries, irregularities, or poor health overall. That is why seniors must seek preventative care solutions and regular physical examinations at Primary Medical Care Center to ensure their health remains strong and viable. But if you already suffer a health condition or injury, our doctors can develop comprehensive treatment solutions to minimize the symptoms and eliminate the problem.
We don't discriminate against any senior patient with a preexisting condition. Our general primary care and other medical services are available to seniors regardless of their health status. However, even if you don't experience any symptoms, it would help if you came to our facility for regular checkups to ensure you don't have any underlying health issues. Because if you do, we can recommend the best treatment to stop it from worsening.
Would you like more information about Primary Medical Care Center and our medical treatments for seniors? Call us at (305) 751-1500 or use this contact form to send your questions or comments to our staff.
Top-Rated Senior Medical Center in Dania Beach 
Primary Medical Care Center is the top senior medical care center in Dania Beach because we are a value-based care facility that prioritizes the health care needs of our patients. Value-based care means we want to solve your healthcare problem rather than merely treat the symptoms.
Seniors suffering a non-life-threatening emergency can visit our urgent care center without an appointment to seek same-day treatment. In addition, our Dania Beach facility regularly has primary care physicians and medical specialists on standby to assist senior patients quickly and professionally.
Another reason to seek urgent care from Primary Medical Care Center is that we are cheaper than a hospital emergency room. Unless you have a life-threatening emergency, you should always seek treatment from our urgent care center to save money on your medical costs. We can treat non-life-threatening health problems for a fraction of what it would cost you at the hospital.
Best Doctors for Seniors in Dania Beach 
Primary Medical Care Center has the best doctors, specialists, and nurses for seniors in Dania Beach and South Florida. Our medical professionals possess the appropriate degrees, certifications, and licenses to practice in their respective medical fields. On top of that, we all have several years of experience treating minor to severe illnesses and injuries for seniors in Dania Beach.
Are you worried about the cost of your healthcare? We know most Florida seniors live on fixed incomes and tight budgets. For this reason, we offer low-cost healthcare services that most seniors can afford. And if you have health insurance, you could save even more money on your healthcare expenses.
Primary Medical Care Center accepts health insurance plans from common Florida insurance carriers like the following:
Preferred Care Partners
Medica Healthcare
Allwell
Aetna
AvMed
MMM of Florida
Florida Blue
Sunshine Health
We want you to have access to the most affordable treatments to remedy or cure your particular health problem. Most health insurance plans cover treatments for chronic diseases, illnesses, heart issues, hypertension, slip-and-fall injuries, car accident injuries, and any other injury or illness that degrades or threatens a patient's life.
Primary Medical Care Center has staff members that include family doctors, primary care physicians, massage therapists, cardiologists, nutritionists, rehabilitation specialists, case managers, wellness professionals, home health aides, registered nurses, and more. So, as you can see, we have the best professionals for solving common health issues in Dania Beach.
Why Primary Medical Care Center Should Be Your Premier Choice 
There is no better choice for urgent senior care in Dania Beach than Primary Medical Care Center. We have the most knowledgeable and diverse staff of medical professionals who can address the most common injuries and diseases facing South Florida seniors.
Dr. Jean B. Pierre, M.D., and Dorothy Pierce, ARNP, have assembled an elite medical team to serve all essential healthcare needs for seniors. After two decades, Primary Medical Care Center has diagnosed and treated hundreds of seniors with value-based care to improve their quality of life and restore their independence.
Would you like to learn more about our senior urgent care center in Dania Beach and the services offered? Call (305) 751-1500 or use our contact form to connect with our team today.