Primary Care Medical Doctors for Seniors in Lauderhill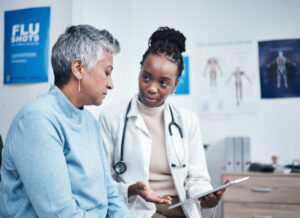 Primary Medical Care Center is a leading provider of professional and dedicated medical care services for seniors in Lauderhill and South Florida. We have been the preferred senior care provider in South Florida for more than 20 years.
Our urgent senior care facility operates under the value-based care model to ensure our patients receive reliable and effective treatment solutions for their injuries and diseases. That was the vision of Dr. Jean B. Pierre, M.D., and Dorothy Pierce, ARNP, when they created the Primary Medical Care Center all those years ago. Now, their vision has become a reality. 
Primary Medical Care Center offers the following critical care services to seniors in Lauderhill:
General Health Services
Preventive Medicine
On-site Medication Distribution
Cardiology
Acupuncture
Behavioral Health
Emergency Care
Case Management
On-site Diagnostic Testing
Comprehensive Wellness Plan
As you can see, we offer a broad range of medical services to cover the most common illnesses and injuries facing South Florida seniors. Whether you need a primary care doctor, nutritionist, or cardiologist, we can provide these care services in one location. Our doctors won't refer you to a third-party physician outside are facility like other doctors often do.
Would you like to learn more about our fantastic senior care services in Lauderhill? Call us at (305) 751-1500 or use this contact form to submit your questions or schedule an appointment to see one of our physicians.  
Top-Rated Senior Medical Center in Lauderhill 
Primary Medical Care Center is a highly acclaimed senior medical center operating in Lauderhill and South Florida. All seniors 65 and older are welcome to visit our facility for quality treatment. We never discriminate against patients because of age, race, gender, sexual orientation, ethnicity, or preexisting conditions. Our non-discrimination policy ensures everyone is treated equally and respectfully.
We want patients to feel comfortable and welcomed at our senior medical care facility. Our staff can accommodate your needs if you wish to schedule a routine checkup or need to walk into our facility for emergency care without an appointment.
Same-day care is available to patients suffering non-life-threatening emergencies, such as empty prescription bottles, minor cuts, infections, etc. On the other hand, life-threatening emergencies require immediate care in the emergency room of a hospital.
Best Doctors for Seniors in Lauderhill 
Primary Medical Care Center has doctors who will do whatever possible to maintain your independent and healthy lifestyle. Our value-based care model strives to keep you out of our facility by treating your underlying health conditions rather than the symptoms alone. That way, you can save money on your long-term healthcare costs by not having to keep seeking treatment to mitigate your symptoms.
Our doctors and medical professionals have all the appropriate licenses, educational backgrounds, references, experience, and certifications to treat complex and minor disabilities, diseases, and injuries. In addition, our medical team works together to develop personalized treatment plans to remedy the specific health problems of our patients.
Why Primary Medical Care Center Should Be Your Premier Choice 
Are you a senior living on a fixed income? Do you have a health insurance plan? Primary Medical Care Center can accept insurance coverage from the following carriers:
Sunshine Health
Preferred Care Partners
WellCare
AllWell
AvMed
Medica Health
Humana
Careplus
Simply
MMM
HealthSun
Florida Blue
Devoted
Aetna
Health insurance can significantly reduce healthcare costs when seeking treatment at Primary Medical Care Center. However, if you don't have health insurance, we can still find low-cost treatment solutions most suitable for addressing your health issues and budget. We want to help you seek affordable and quality treatment in any way we can. That is our goal.
Primary Medical Care Center is a non-judgment facility that never discriminates against anyone. Instead, our staff continuously shows empathy and compassion to ensure patients feel comfortable seeking treatment at our facility.
Call (305) 751-1500 or use our contact form to submit your questions or schedule an appointment to visit our Lauderhill facility.