Primary Care Medical Doctors for Seniors in Ojus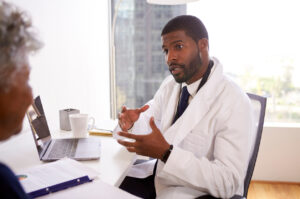 Seniors have the right to access the best medical center for their physical examinations, treatments, and checkups in Ojus. So if you need to find a professional senior medical center in South Florida, you have come to the right place.
Primary Medical Care Center is an advanced senior medical center specializing in caring for and treating senior patients in Ojus and South Florida. We are the preferred South Florida medical center because our senior patients trust the knowledge and skill of our medical professionals to treat their illnesses and diseases.
Our most popular medical services for seniors are as follows:
Cardiology
General Primary Health Care
Acupuncture
Case Management
Preventive Medicine
Emergency Care
On-site Diagnostic Testing
Comprehensive Wellness Plan
Behavioral Health
On-site Medication Distribution
Dr. Jean B. Pierre, M.D., and Dorothy Pierce, ARNP, founded Primary Medical Care Center. Their vision was to develop a senior medical center where older patients felt comfortable receiving treatment at our facility or in their homes without prejudice, judgment, or criticism.
Contact the Primary Medical Care Center at (305) 751-1500 or use this contact form to learn more about our services or make an appointment for a medical checkup.
Top-Rated Senior Medical Center in Ojus 
Primary Medical Care Center offers accurate, professional, quality, and affordable medical treatment services to seniors living in Ojus and surrounding cities in South Florida. Seniors have the highest probability of suffering from injuries and diseases, so we want to provide a medical facility they can trust for their regular checkups and treatments.
We have one of the top-equipped senior medical centers in Ojus. Our professional medical staff has the necessary training to show care to patients and help them figure out effective ways to deal with their health problems. In addition, we have a collaborative team of medical professionals specializing in various medical fields who come together to create a comprehensive treatment plan for our patients.
Primary Medical Care Center is also a more affordable alternative to an emergency room visit because we operate as an urgent care center for seniors in Ojus. Therefore, if you need to see your primary care physician or another medical specialist without an appointment, you can come to our facility for same-day urgent care for any non-life-threatening emergency.
In cases where you suffer a life-threatening emergency, the best thing to do is to call 9-1-1 for an ambulance to take you to the hospital. Either that or have someone else drive you to the hospital to visit the emergency room.
Best Doctors for Seniors in Ojus 
Primary Medical Care Center comprises the best medical specialists, doctors, nurses, and staff members with the necessary credentials to practice in their respective fields. They possess certifications, licenses, degrees, education, and experience in their professional backgrounds to prove their skill and talent.
We have assisted South Florida seniors with their healthcare needs for over three decades. Our facility is a budget-friendly senior medical center offering low-cost senior medical services of the highest quality. So if you or your loved one is a senior on a fixed income, our medical center is perfect for you. 
Health insurance plans from certain carriers are accepted. These carriers may include the following:
Preferred Care Partners
Medica Healthcare
Sunshine Health
MMM of Florida
Florida Blue
Aetna
AvMed
Allwell
Do you have questions about whether your health insurance plan covers the treatment you need at Primary Medical Care Center? Our staff will be more than happy to review your insurance policy to see what it does and doesn't cover. The chances are that if you need treatment for a heart problem, sudden illness, chronic disease, auto accident injury, or slip-and-fall injury, your insurance policy will likely cover it.
Call your insurance carrier if you have specific questions about your policy. They will be able to explain the terms and coverage offered more clearly.
Why Primary Medical Care Center Should Be Your Premier Choice 
Primary Medical Care Center has a staff of different medical professionals to ensure our senior patients can receive all their urgent care needs at the same facility. Our staff members include family doctors, cardiologists, massage therapists, primary care physicians, behavioral specialists, home health aides, wellness professionals, and case managers.
The collaboration between all these professionals is how our senior patients receive adequate care for their health issues. Dr. Jean B. Pierre, M.D., and Dorothy Pierce, ARNP, created Primary Medical Care Center to establish a single place where seniors could satisfy all their essential treatments and medical needs. The combined decades of experience of Dr. Pierre and Nurse Pierce have allowed them to establish one of the most renowned senior medical centers in Ojus and South Florida.
Do you have any questions or inquiries regarding our senior care services in Ojus? If you would like to submit your comments or schedule an appointment for a primary care session, call (305) 751-1500 or use our contact form to connect with our staff.