Primary Care Medical Doctors for Seniors in West Miramar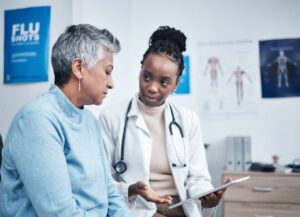 Do you need expert senior care services from medical professionals in West Miramar? Primary Medical Care Center offers personalized value-based healthcare services to seniors in West Miramar and South Florida.
Dr. Jean B. Pierre, M.D., and Dorothy Pierce, ARNP, created Primary Medical Care Center to offer seniors a single place to fulfill all their healthcare needs. We have primary care doctors and various medical specialists to address the common diseases and injuries facing seniors in West Miramar.
The fields of medicine we practice include the following:
Cardiology
On-site Medication Distribution
On-site Diagnostic Testing
Emergency Care
General Primary Medical Care
Acupuncture
Behavioral Health
Preventive Medicine
Comprehensive Wellness Plan
Case Management
Primary Medical Care Center is a one-stop location to meet your senior care needs in West Miramar. Rather than travel from one medical practice to another, you can receive primary and specialized care at our facility without traveling anywhere else. This will save you time and expense.
Call us at (305) 751-1500 or use this contact form to make an appointment for a consultation or checkup with our primary care doctor. If you have an underlying health condition requiring specialized care, we can recommend you to one of the other medical specialists at the Primary Medical Care Center.
Top-Rated Senior Medical Center in West Miramar 
Primary Medical Care Center is a renowned senior medical center in West Miramar because our medical professionals work as a team to create effective treatment solutions for our patients. Since we employ several different medical specialists in various fields, we are equipped to develop an effective personalized treatment plan to address your underlying health issues.
Another reason we are a top-rated senior medical center is that we operate under a value-based care model. Value-based care is all about addressing the cause of a health condition rather than only the symptoms. That way, you will be less likely to keep coming back to our office to receive treatments for the same symptoms and health issues.
Most other senior care facilities operate under the fee-based model, which means they care more about patients returning for more treatment. Primary Medical Care Center, on the other hand, wants to treat patients with practical solutions which reduce the chances of them needing to return to our facility.
Best Doctors for Seniors in West Miramar 
Primary Medical Care Center employs highly qualified medical specialists, nurses, and primary care doctors with extensive training, experience, and credentials. They are all certified and licensed professionals dedicated to treating the illnesses, injuries, and diseases facing seniors in West Miramar.
Our doctors are accurate in diagnosing and treating health conditions. For instance, we can perform an all-inclusive mental and physical examination on you to detect underlying health issues if they exist. The sooner the signs of disease or illness are detected, the sooner we can recommend treatment to send it into remission.
Do you need a cardiologist, primary care doctor, or acupuncturist? How about a behavioral specialist? We have a doctor ready to provide you with whatever kind of medical care you need.
Why Primary Medical Care Center Should Be Your Premier Choice 
Please don't wait for symptoms to arise before visiting our facility. Instead, we recommend annual checkups to ensure you are in good health. After all, preventative care is the best form of healthcare because it has the highest success rate at stopping disease before it strikes. 
Primary Medical Care Center accepts health insurance plans from these popular carriers in Florida:
Medica Healthcare
Allwell
MMM of Florida
Florida Blue
Sunshine Health
Aetna
AvMed
Preferred Care Partners
Many Florida seniors live on fixed incomes and tight budgets. Dr. Jean B. Pierre, M.D., and Dorothy Pierce, ARNP, created the Primary Medical Care Center to address the issue of senior care affordability. That is why we offer low-cost healthcare services to seniors whether they have health insurance or not. But, of course, if you have health insurance, you can maximize your cost savings and health care options.
In addition, we offer same-day emergency care services to seniors with non-life-threatening conditions at our West Miramar facility. This means you can walk into our facility without an appointment to seek emergency prescription drugs, medical examinations, and other specialized forms of care.
Call (305) 751-1500 or use our contact form to learn more about our senior care services.