Primary Medical Care Center for Seniors Golden Glades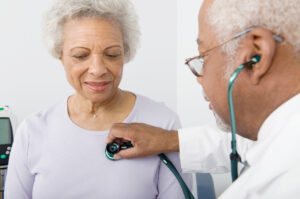 Primary Medical Care Center is a reputable medical clinic in the Golden Glades community, and we're proud to provide a comprehensive range of services to cater to the unique needs of seniors. We're wholly dedicated to offering the highest quality care through a compassionate and personalized approach. This sets us apart as the go-to destination for senior healthcare services in Golden Glades.
Ready to schedule an appointment? Call us at (305) 751-1500 any time, and we'll happily answer all your questions!
State-of-the-Art Medical Equipment and Professional Staff
We believe everyone deserves access to exceptional healthcare, and we're here to deliver that to the Golden Glades seniors! Firstly, our medical facility is equipped with cutting-edge medical equipment that serves as the backbone of our clinic. Our team of experienced professionals is incredibly talented and focused on providing the best type of care for our senior patients.
Here at Primary Medical Care Center, our services are designed with seniors' needs in mind. That's why we offer everything from primary care and geriatric assessments to chronic disease management and rehabilitation services. Other services include:
Cardiology
Nutritionist
Massage Therapy
Home Health Care
On-Site Diagnostic
Wellness Classes
Dental Services
Door-to-Doctor
Our on-site diagnostic capabilities also ensure that our patients receive accurate and efficient health assessments while our cardiology and dental services provide specialized care for their unique needs. It's everything that a senior citizen may need while at our clinic.
But one of the things we're most proud of is our door-to-doctor service. We've seen how challenging it is for some seniors to visit medical clinics, and we want to ensure that this is a non-problem for ours. That's why we provide safe and reliable transportation to and from appointments, ensuring that seniors can get the care they need without any hassle.
Relationship-Based Medical Approach
At Primary Medical Care Center in Golden Glades, we strive to create an environment where seniors can receive the highest quality care in a compassionate and comfortable setting. We're quite determined to foster strong relationships with our patients and their families, and we're fully committed to offering a level of care that exceeds expectations.
To this end, we're very happy to announce that our clinic accepts a total of 14 insurances to cover medical expenses. These include:
Aetna
Careplus
Devoted
Florida Blue
HealthSun
WellCare
Simply
Preferred Care Partners
Humana
Medica Health
Sunshine Health
AvMed
AllWell
MMM
Quality healthcare shouldn't be locked behind a paywall, which is why we're doing everything we can to provide it to you affordably. Primary Medical Care Center has been the top choice for senior medical care in Golden Glades for many years now. This is in no small part due to our emphasis on personalized treatments, our empathetic approach, and relationship-based interactions with our patients.
Excellent Senior Medical Care Facility in Golden Glades
Our highly skilled doctors, Dorothy Pierre, and Jean B. Pierre, are the pride of our medical clinic. Both are extremely experienced in senior care and will offer you or your loved ones top-notch care services. We're dedicated to improving our patient's quality of life through a holistic approach that involves psychological care, nutritional advice, massage, and more.
If you or a loved one need quality senior healthcare services in Golden Glades, please don't hesitate to contact us. We're here to help, so call (305) 751-1500 to learn more about our services and schedule a visit. We look forward to welcoming you to our family at Primary Medical Care Center!