Primary Medical Care Center for Seniors Opa Locka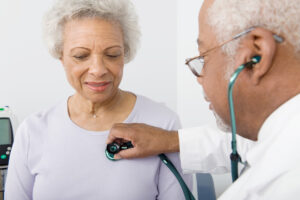 Primary Medical Care Center is the go-to location for senior care in Opa Locka. This sets us apart from most other senior medical clinics in the area! We have a team of compassionate personnel ready to assist you with all your medical needs. Moreover, we're using a holistic approach to provide comprehensive aid for all conditions, psychological or physical.
We're fully dedicated to delivering all-inclusive and compassionate care to you or your loved one. Moreover, our expert staff is knowledgeable and experienced in dealing with any medical condition, reducing the risk to all of our patients considerably. Call us at (305) 751-1500 for more information about our services!
Comprehensive Medical Services for Seniors
Our clinic offers a wide range of services catering to the diverse healthcare requirements of the aging population. Our patients benefit from the following:
Cardiology Assistance
Home Health Care
Nutritional Advice
Wellness Classes
On-Site Diagnostics
Primary Care
Door-to-Doctor Assistance
Massage Therapy
Rehab Center
Dental Services
Quality of life lies at the core of our clinic, and we do everything to increase our patients' comfort here! We take pride in being able to offer a comprehensive assistance package to our senior patients who can no longer support themselves. Whether it's our door-to-doctor service or the rehab center, they're aimed at making life more comfortable for our patients.
Our state-of-the-art facility in Opa Locka is also equipped with the best medical technology money can buy. This allows us to offer specialized services such as on-site diagnostic testing that ensures accurate and efficient patient evaluations.
Maximum Focus on Overall Wellness and Prevention
At Primary Medical Care Center, healthcare goes beyond treating medical conditions. Our skilled professionals-led wellness classes are designed to keep seniors active and engaged while promoting a healthy lifestyle. We also emphasize the overall well-being of our patients through wellness classes, nutrition counseling, and mental health support.
Our registered nutritionist collaborates with patients to create personalized meal plans and provide dietary advice, ensuring optimal nutrition for our senior patients. Mental health support services are also available to provide seniors with a safe and supportive environment to express their concerns and receive guidance.
We Accept All Major Insurance Carriers
Primary Medical Care Center accepts all major insurance companies, including:
Aetna
Careplus
Devoted
Florida Blue
HealthSun
WellCare
Simply
Preferred Care Partners
Humana
Medica Health
Sunshine Health
AvMed
AllWell
MMM
Thanks to this, even financially-challenged individuals can benefit from high-quality medical assistance at our clinic. Our commitment to serving as many seniors as possible ensures that everyone can receive high-quality, comprehensive healthcare, regardless of their insurance provider.
So, remember that our knowledgeable administrative staff is always available to help you navigate the complexities of insurance claims and coverage. They can answer any questions you may have about your insurance plan!
Best Senior Medical Clinic in Opa Locka
All in all, Primary Medical Care Center has a proven track record of excellent senior medical care in Opa Locka and throughout Florida. Whether it's our top-notch customer service, knowledgeable staff, or personalized treatments, we excel at senior care. If you or your loved one ever need our service, we're at your disposal.
It only takes a few minutes to set an appointment, and then you can learn more about what we do here at our clinic. It's a no-obligation meeting where we answer all your questions and give you the information you need to make the best decision for you. Don't hesitate to call at (305) 751-1500!