Primary Medical Care Center for Seniors Norland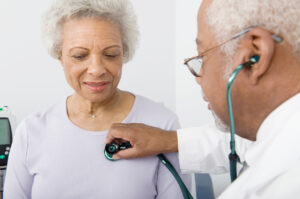 The senior community of Norland deserves the best medical care they can get. We at Primary Medical Care Center believe we're uniquely equipped to offer just that. Our commitment to delivering comprehensive and compassionate care has established us as a leading medical center in the area.
So, if you or a loved one are seeking a one-stop solution for all your senior healthcare needs, look no further than Primary Medical Care Center in Norland. Call us at (305) 751-1500 to learn more about our services!
Exceptional Services for Seniors in Norland
Here at Primary Medical Care Center, we understand how important it is that seniors receive comprehensive care for their diverse healthcare needs. Our experienced medical professionals specialize in the following:
Primary Care
Door-to-Doctor Services
Wellness Classes
Dental Services
On-Site Diagnostics
Cardiology
Nutrition
Rehabilitation
Massage Therapy
Home Health Care
For instance, on-site diagnostic capabilities allow for accurate and efficient evaluations, while our rehabilitation services help seniors recover and regain their strength after injury or surgery. They're all interconnected in such a way that our patients obtain comprehensive assistance at all times.
If you need home health care, then our experienced staff will provide the highest quality medical assistance upon request. We can also transport senior citizens to our clinic if they're impaired or find moving extremely difficult.
Promoting Overall Well-Being Through Personalized Treatments
At Primary Medical Care Center, healthcare goes beyond treating medical conditions. We also focus on the specific care needs of our patients, offering wellness classes, nutrition counseling, and mental health support to account for their unique needs.
Our wellness classes are designed to keep seniors active and engaged while our registered nutritionist works with patients to create personalized meal plans and offer dietary advice. On the other hand, our mental health support services provide a supportive environment where our senior patients can express their worries and receive understanding!
We fully understand the importance of addressing emotional and mental health needs, and we're committed to offering comprehensive care to our patients in any way possible.
Why Choose Primary Medical Care Center?
One of the things we're most proud of is the number of insurance providers we work with. Through them, we can offer high-quality medical care to a wide number of senior citizens in Norland. Here are the insurance providers we accept:
Aetna
Careplus
Devoted
Florida Blue
HealthSun
WellCare
Simply
Preferred Care Partners
Humana
Medica Health
Sunshine Health
AvMed
AllWell
MMM
If any of these providers insure you, you can rest assured that our medical clinic is always open. Please schedule an appointment or drop by to talk with one of our staff, and all your questions will be answered. Whether you or your loved one require medical assistance, we'll inform you about your options.
It doesn't matter that you haven't done your research. Come to us, and we'll explain everything from A to Z, including advice on what to decide based on your situation. You won't have any obligations when making an appointment, and it's completely free. That does sound excellent.
Contact us Today
Senior medical care is the medical domain most dear to our hearts because it addresses the needs of our older relatives. Whether they're our parents or otherwise, they've reached an age where they need us more than ever. And it's only fair that we offer the best assistance possible.
Through Primary Medical Care Center, you ensure that your senior relative lives peacefully and safely. Call us at (305) 751-1500 to schedule an appointment and learn more!