Primary Medical Care Center for Seniors in Cooper City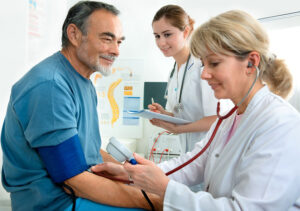 Primary Medical Care Center is one of the leading senior care services providers in Cooper City, Florida. For over 20 years, we've made it our mission to care for senior patients by reducing their painful symptoms and improving their overall quality of life. If we can help you or your loved one to maintain an independent lifestyle without depending on caregivers, then we would have accomplished our objective.
Are you a senior with a pre-existing condition? We accept seniors with all types of pre-existing medical conditions. None of our doctors or staff members will ever discriminate against a senior patient because of their pre-existing conditions. Primary Medical Care Center welcomes all seniors in Cooper City and afar. The health, race, ethnicity, and gender of a patient have no bearing on our willingness to care for them.
When seniors come into our facility in Cooper City, they will be greeted and welcomed without any prejudice. You will never feel embarrassed or ashamed in our facility because we all empathize with seniors with health issues.
Here are some of the services we offer to seniors:
On-site Diagnostic
Home Health Care
Massage Therapy
Comprehensive Wellness Plan
Cardiology
Dental Services
Primary Care
Nutritionist
Door-to-Doctor
Rehab Center
Anyone with pre-existing conditions should seek treatment from our doctors immediately. But even if you don't have a known pre-existing condition, it couldn't hurt to schedule an appointment for a physical examination. That way, you will know for sure whether you are completely healthy or not.
Contact us at (305) 751-1500 or email us on our contact form here to schedule your appointment at your earliest convenience.
Top-Rated Senior Medical Center in Cooper City
You can always trust a senior medical center when it has dozens of positive reviews and comments from past patients. Primary Medical Care Center has spent more than 20 years accumulating excellent reviews and establishing long-term relationships with our patients. We achieved this milestone because seniors feel safe and comfortable seeking treatment from us.
In addition to providing general health care services to seniors, Primary Medical Care Center also offers specialized senior care services. These are targeted health care services from professionals like nutritionists, cardiologists, massage therapists, and behavioral health specialists.
Insurance Accepted for Our Senior Care Services in Cooper City
Primary Medical Care Center makes every effort to offer affordable senior care services in Cooper City. We keep our service prices competitive and easily accessible for most seniors living in the city, especially those living on fixed incomes. That is why we accept insurance plans from most carriers.
Here are some of the health insurance carriers we accept:
Humana
Preferred Care Partners
Sunshine Health
AvMed
Devoted
HealthSun
Florida Blue
MMM
Medica Health
Aetna
Careplus
Simply
WellCare
AllWell
You can significantly lower your out-of-pocket expenses if you have a health insurance plan from any of these carriers. But even if you have no health insurance coverage, you may still be eligible for reduced senior care services at our facility. Contact our staff at (305) 751-1500 or email us here to learn more about that.
Licensed Doctors and Medical Specialists in Cooper City

Primary Medical Care Center goes out of its way to hire the best medical staff in Cooper City. Our registered nurses, medical specialists, and primary care physicians have the proper experience and training to provide exceptional senior care to patients.
Please schedule your appointment to come to our facility so you can ensure your health stays on track. Call (305) 751-1500 or email us here to get started.