Primary Medical Care Center for Seniors Delray Beach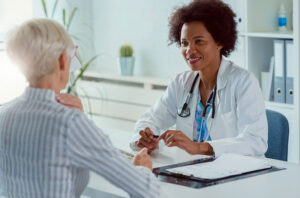 Primary Medical Care Center is a reputable, dependable, and professional senior medical center in Davie. We are dedicated to treating senior patients with the utmost care and respect. Our mission is to help improve the health and comfort of our senior patients with innovative treatments and techniques.
We have a team of medical doctors and specialists who work together to develop the best treatment solutions for each patient. After a thorough examination and diagnosis of your physical health, our doctors will recommend one or more treatments that target your particular conditions and ailments.
The services offered at our senior medical center include the following:
On-site Diagnostic
Nutritionist
Door-to-Doctor
Primary Care
Cardiology
Home Health Care
Massage Therapy
Comprehensive wellness plan
Dental Services
Rehab Center
Are you ready to schedule an appointment to see one of our licensed physicians or medical specialists? Please call us at (305) 751-1500 or email us here to set up your appointment.
Top-Rated Senior Medical Center in Davie
Primary Medical Care Center has been delivering exceptional medical services to seniors in Davie for over two decades. Seniors have grown to trust our medical center because we have a fully qualified team of doctors and specialists who work together to make patients feel better and live longer.
Treating the health condition of a senior patient is only part of what we do. We also try to inform and educate our patients about the likely cause of their health issues and the best ways they can improve their health going forward. The main goal is to help the patient improve their daily health habits to avoid future health problems. After all, preventative care is the best medicine for any patient to enhance their overall health and quality of life.
How do we do this? Primary Medical Care Center has medical specialists and doctors from various medical fields, including physical therapy, internal medicine, cardiology, and nutrition. Our medical team collaborates to determine the best healthcare solutions for senior patients. The combination of our medical technology and knowledge helps us improve and preserve the spine, heart, lungs, and muscle health of each patient.
Affordable Senior Care Services in Davie
Primary Medical Care Center offers affordable and competitive prices for its senior care services in Davie. Our friendly staff members treat each patient with care and empathy to help them deal with the emotional side of managing their injuries and illnesses.
Meanwhile, our doctors treat these conditions with innovative and advanced medical techniques. When you seek treatment at our facility, you should notice a significant improvement in your quality of life within a relatively short amount of time.
Are you living on a fixed income in Davie? Primary Medical Care Center accepts health insurance plans from the following carriers:
Preferred Care Partners
Sunshine Health
AvMed
Devoted
HealthSun
Florida Blue
MMM
Medica Health
Humana
Aetna
Careplus
Simply
WellCare
AllWell
If you don't see your health insurance carrier on this list, please contact us anyway for further consideration. We can offer affordable senior care services and prescription drug prices to seniors without health insurance too. Our staff will work with you to come up with a treatment solution that accommodates your tight budget.
The Best Medical Specialists for Seniors in Davie
Primary Medical Care Center is an established and professional senior care facility in Davie. We have some of the best nurses, doctors, and specialists working in the healthcare industry. They have acquired all the necessary licenses, certifications, and training to treat many different health conditions for seniors in Davie. 
Would you like to set up an appointment for a senior care consultation? Call (305) 751-1500 or email us here to schedule your appointment today.