Primary Medical Care Center for Seniors in Deerfield Beach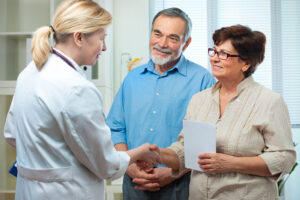 Seniors have to pay close attention to their health and wellness because they are more susceptible to illness and injury. In addition, their muscle strength and immune health will weaken unless they put forth the effort to keep them strong. The first step to better health for seniors is seeing a primary care physician regularly. The doctor can monitor the senior for any unexpected diseases.
Primary Care Medical Center has a team of primary care physicians, registered nurses, and medical specialists who have been treating senior patients in Deerfield Beach for over 20 years. When our doctors examine your physical health, we will look for traces of the most common diseases facing seniors. If our official diagnosis finds a particular health problem, we will recommend the best treatment to reduce the symptoms and eliminate the issue.
Would you like to make an appointment to consult with one of our primary care physicians or medical specialists? If so, you can reach our customer service representatives at (305) 751-1500 or email us with this form here.
A Trusted Senior Medical Center in Deerfield Beach
Primary Medical Care Center has spent over two decades improving the health and comfort of seniors in Deerfield Beach. Local seniors trust our ability to detect unexpected health problems and develop personalized treatment plans to manage them quickly. That way, the problems don't get out of control and become more severe.
Here are some of the most popular services we offer for seniors:
On-site Diagnostic
Cardiology
Dental Services
Nutritionist
Door-to-Doctor
Primary Care
Rehab Center
Home Health Care
Massage Therapy
Comprehensive wellness plan
Safety and ethics are the two principles we live by at Primary Medical Care Center. Each one of our staff members and medical professionals is expected to uphold our facility's strict ethical and safety standards at all times. As a result, seniors can feel safe, comfortable, and unembarrassed whenever they step into our facility.
Primary Medical Care Center Accepts Seniors with Pre-existing Conditions
Primary Medical Care Center accepts patients with pre-existing conditions in Deerfield Beach. You will never be refused senior care treatment because of a pre-existing condition that you may have already. Seniors with any health status may come to our facility to seek treatment.
Since each senior has a different level of health and wellness, our medical professionals will create a personalized wellness plan after your initial physical examination. This plan will address all your particular health care needs and concerns. The best part is that our services are affordable for most seniors living on fixed incomes.
Primary Medical Care Center accepts health insurance plans from the following carriers:
HealthSun
Florida Blue
MMM
Medica Health
Careplus
Simply
WellCare
AllWell
Humana
Preferred Care Partners
Sunshine Health
AvMed
Devoted
Aetna
We will never discriminate against you due to your sexual orientation, race, ethnicity, income, or gender. All of your concerns regarding health and payment will get discussed during your consultation with our staff.
The Best Medical Specialists for Seniors in Deerfield Beach

Primary Medical Care Center has some of the best medical specialists for seniors in Deerfield Beach. The founders of the senior care center, Jean B. Pierre MD and Dorothy Pierre ARNP, have a mission to provide high-quality care to seniors on fixed incomes. We know you will be happy with the care you receive at our facility.
Call (305) 751-1500 or email us here to schedule your appointment today. It will be your first big step toward improving and sustaining your health and wellness. Then, you can enjoy living many more years to come.