Primary Medical Care Center for Seniors in Margate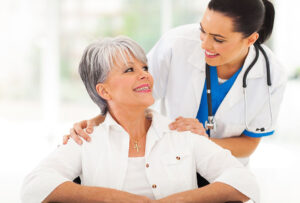 You deserve only the best senior care for staying safe and healthy in Margate. Primary Medical Care Center has specialized in treating and improving the health of its senior patients for more than 20 years. We have multiple facilities to provide care for seniors in Margate and other cities in South Florida. The services available at our facilities include the following:
Primary Care Services
Dental Services
Rehab Center
Home Health Care
Massage Therapy
Comprehensive wellness plan
Nutritionist
On-site Diagnostic
Cardiology
Door-to-Doctor
Primary Medical Care Center has medical specialists and primary doctors on staff in Margate. Does your need for senior care require an excellent cardiologist or massage therapist? As you can see from the list above, the versatility of our medical service providers can accommodate all your senior care needs. We even have dentists available to provide oral care services to seniors as well.
Are you ready to make an appointment to see our senior care medical doctors in Margate? Contact us at (305) 751-1500 or email us here to get started.  
A "No Discrimination" Senior Medical Center in Margate
Seniors are identified as people who are 65 years of age or older. If you fall into this category, you are welcome to visit our facility for professional medical care. We never judge our patients for their gender, sexual orientation, race, ethnicity, or pre-existing conditions. As a "no discrimination" facility, our staff members treat all seniors with empathy, respect, and quality care.
Primary Medical Care Center is always accepting new senior patients. It doesn't matter if you have a current health issue to treat or no known health issue at all. We recommend all seniors get a physical examination at least once per year. That way, we can spot any upcoming health issues that you may face in the near future. The sooner you get treatment for them, the sooner you can recover.
Get Relief for Your Pain and Discomfort in Margate
Our medical professionals will work to get to the root cause of your health issues if they exist. We believe targeting the root cause is the best way to reduce the symptoms and eventually eliminate your health issues entirely. Then you can go on to live a happier and healthier life.
The most common recommendation we make to seniors is implementing an adequate nutrition and exercise routine into their lives.  Our doctors and nutritionists can create a personalized wellness plan to ensure you stay healthy throughout each day. On the other hand, if you currently suffer from a disease or injury, we will create a more sophisticated care plan to help you recover. 
Over a Dozen Health Insurance Carriers Accepted
Primary Medical Care Center accepts insurance plans from more than a dozen reputable health insurance carriers in South Florida. These carriers include:
HealthSun
Florida Blue
MMM
Medica Health
Humana
Preferred Care Partners
Careplus
Simply
WellCare
Sunshine Health
AvMed
Devoted
Aetna
AllWell
Don't neglect your health and wellness because of the cost to get medical care. If you have an active health insurance policy, then you need to put it to good use. But even if you don't have health insurance, you could still find some affordable senior care services at our facility.
Contact Our Medical Professionals for Seniors in Margate
Dr. Jean B. Pierre MD and Dorothy Pierre ARNP are two medical professionals who founded Primary Medical Care Center because they believe senior care is vital. As soon as you visit our facility, you will experience the warmth and respect that our licensed medical professionals provide to all our seniors. 
Call (305) 751-1500 or email us here to schedule your appointment today.