Primary Care Medical Doctors for Seniors in Palm Springs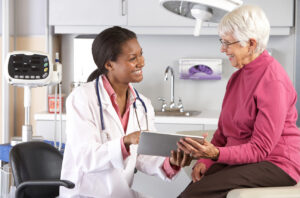 Senior patients need the best healthcare services to remain strong, healthy, and independent. If you or a loved one is a senior needing a reliable and professional senior medical care center in Palm Springs, then you have come to the right place.
Primary Medical Care Center is staffed with licensed medical doctors and nurses with an extensive history of treating senior patients in Palm Springs and South Florida. Dr. Jean B. Pierre, M.D., and Dorothy Pierce, ARNP, created Primary Medical Care Center to address senior healthcare needs quickly.
One of the most important things you can do to stay healthy is to receive annual checkups with a primary care physician. Our facility is equipped with knowledgeable primary care doctors who can perform yearly physical examinations and recommend the best preventative measures for maintaining good health.
If we diagnose you with a health problem or abnormality, we'll make immediate recommendations for mitigating the problem and stopping the symptoms from worsening. Fast and immediate action is an effective way to send disease and illness into remission.
Here are some of the senior medical treatment services offered at our facility in Palm Springs:
Acupuncture
Case Management
Behavioral Health
On-site Medication Distribution
General Health Services
Preventive Medicine
Cardiology
Emergency Care
On-site Diagnostic Testing
Comprehensive Wellness Plan
Would you or a loved one like to learn more about our senior care and treatment services in Palm Springs? Call (305) 751-1500 or use our contact form here.
Top-Rated Senior Medical Center in Palm Springs
Seniors deserve top-quality care from a team of experienced doctors, medical professionals, specialists, and nurses. Primary Medical Care Center is a high-rated senior medical care center dedicated to improving the health, wellness, and lives of senior patients in Palm Springs. If you need emergency care services for non-life-threatening issues, you can visit our urgent care facility anytime without an appointment. We serve all walk-in senior patients.
Do you live on a fixed income or a tight budget? If so, you're probably concerned about the cost of senior healthcare services for yourself or a loved one. We're happy to say that we offer affordable care options for senior patients without health insurance. Our doctors and staff will recommend the best treatment options for you based on your budget and health condition.
Of course, our services are even more affordable if you have health insurance. We accept health insurance plans from the following providers:
MMM of Florida
Florida Blue
Medica Healthcare
Allwell
Preferred Care Partners
Aetna
AvMed
Sunshine Health
A health insurance policy from one of these healthcare providers can significantly decrease your out-of-pocket expenses at our facility. Some policies may even cover all your expenses, depending on the coverage and provisions outlined in your policy.
Contact our staff at Primary Medical Care Center to find out whether your insurance plan is accepted at our facility and how much coverage your policy will provide you. We'll make every attempt to provide you with the most affordable treatment options to accommodate your budget and coverage limits.
Best Doctors for Seniors in Palm Springs
What is your idea of an excellent doctor? Primary Medical Care Center believes a great doctor is someone who possesses the skills, experience, education, training, and dedication to deliver effective care to patients. That is why all our doctors, specialists, medical professionals, and nurses work together to deliver exemplary treatment and care to every senior who walks through our doors.
Many senior patients throughout Palm Springs believe we have the best doctors because of the value-based care we give to them. Our objective is to come up with real solutions for eliminating health problems and ensuring you live the longest and most pain-free life possible. Then you can continue doing your normal daily activities with more independence and minimal assistance.
Are you a senior with a disability? If so, you'll still have several options to receive care from Primary Medical Care Center. For instance, you can utilize our home health services, where a skilled nurse, therapist, or medical specialist will come to your home to provide care. And if you need to visit our facility, we'll pick you up at your home with our door-to-doctor transportation service. 
Why Primary Medical Care Center Should Be Your Premier Choice
Primary Medical Care Center differs from other medical centers because we offer more than only general primary care services. We also provide a variety of specialty medical care services to address all the different care and treatment needs of senior patients, such as medication distribution, home health care, cardiology, preventative medicine, behavioral health, acupuncture, and more.
Dr. Jean B. Pierre, M.D., and Dorothy Pierce, ARNP, created one of the best senior medical centers in Palm Springs because of the variety and affordability of the services offered. Call (305) 751-1500 or use our contact form here to make an appointment and learn more about our fantastic urgent care facility for seniors.