Primary Care Medical Doctors for Seniors in Riviera Beach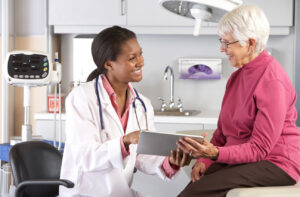 Primary Medical Care Center is the leading provider of medical care services for seniors in Riviera Beach. Our doctors are licensed and experienced medical professionals specializing in the care and needs of senior patients.
Dr. Jean B. Pierre, M.D., and Dorothy Pierce, ARNP, founded Primary Medical Care Center and have more than 30 years of healthcare experience. They always emphasize the importance of yearly checkups for seniors as a preventative solution to maintaining excellent health and wellness.
Seniors have a higher risk of developing abnormalities, diseases, and poor health conditions. For this reason, preventative practices are the best solution for avoiding severe health conditions and symptoms. But if you already have a health issue, our doctors will work with you and create a plan for minimizing the symptoms as much as possible. The end goal will be to send the disease into remission to restore good health.
General primary health care is the essence of good health for seniors. Therefore, any senior in excellent or poor health should make it a habit of coming into our facility for periodic checkups. It is the best way to discover underlying health issues you may not be aware exist. Then we can offer a wide range of effective treatment services to mitigate symptoms and help improve your quality of life.
Our most popular medical treatment services for seniors include the following:
Cardiology
General Primary Health Care
Acupuncture
Case Management
Preventive Medicine
On-site Diagnostic Testing
Comprehensive Wellness Plan
Behavioral Health
On-site Medication Distribution
Emergency Care
Would you like more information on our treatments? Call (305) 751-1500 or use our contact form here to ask questions or request an appointment for an examination with one of our experienced primary care doctors at the Primary Medical Care Center.
Top-Rated Senior Medical Center in Riviera Beach
Do you know why Primary Medical Care Center is the leading senior medical care center in Riviera Beach? It is because we prioritize the needs of our senior patients above everything else.
Any senior with an urgent health crisis doesn't have to make an appointment and wait for quality care. Instead, seniors can walk into our urgent care clinic without an appointment and request same-day care. We always have a qualified primary care doctor on staff waiting and ready to assist senior patients in Riviera Beach.
Primary Medical Care Center offers much more affordable emergency care services to seniors than a typical emergency room at a hospital. You could save thousands of dollars by avoiding a hospital emergency room and coming to our urgent care facility.
As long as your health problem doesn't require immediate life-saving treatment, you can come to Primary Medical Care Center to treat your non-life-threatening emergencies.
Best Doctors for Seniors in Riviera Beach
Seniors deserve the best doctors in Riviera Beach. Primary Medical Care Center is proud to have the highest-quality doctors and nurses with all the necessary credentials and education, including licenses, certifications, and degrees. In addition, our doctors have several years of experience treating the most severe illnesses facing seniors in Riviera Beach.
Are you a senior living on a tight budget? If so, you'll be happy to know we offer some of the lowest-cost healthcare services for seniors in South Florida. We can even accept health insurance plans from notable carriers like the following:
Aetna
AvMed
Preferred Care Partners
Medica Healthcare
Allwell
MMM of Florida
Florida Blue
Sunshine Health
Our staff will work with you to come up with the most affordable treatment options to reduce the severity of your symptoms and help send your health problem into remission. We can treat seniors with illnesses, chronic diseases, poor nutrition, auto accident injuries, heart issues, slip-and-fall injuries, and any other common illnesses and injuries that seniors face.
The medical professionals on our staff include primary care physicians, family doctors, cardiologists, massage therapists, rehabilitation specialists, nutritionists, wellness professionals, case managers, behavioral specialists, home health aides, nurses, and more. So, as you can see, you'll be in good hands when you come to Primary Medical Care Center for quality treatment.
Why Primary Medical Care Center Should Be Your Premier Choice
Primary Medical Care Center specializes in treating seniors and improving their quality of life. We have a team of highly skilled doctors and nurses dedicated to senior healthcare. Their many years of experience make them the number one senior care medical professionals in the region.
Dr. Jean B. Pierre, M.D., and Dorothy Pierce, ARNP bring decades of combined experience to every senior patient they treat. Dr. Pierre has acquired a vast reputation after practicing family medicine in South Florida for more than 20 years. Seniors have grown to trust his medical knowledge and advice because of the effective treatments they receive from him and his staff.
If you have questions, comments, or appointment requests, you can call (305) 751-1500 or use our contact form for more information.