Primary Medical Care Center for Seniors Lantana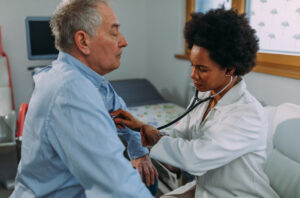 Primary Medical Care Center is one of the few medical centers devoted to senior care in Lantana. Our staff is comprised of medical practitioners, medical specialists, registered nurses and primary care physicians. They combine their wide-ranging experience to deliver top-quality care and treatment to seniors.
We also have some of the most sophisticated medical technology ever used to treat patients in South Florida. This technology simplifies the process of diagnosing and treating the medical conditions most commonly found in seniors. So if you want an accurate, fast, and reliable diagnosis, you should book an appointment to visit Lantana. It is a choice that could benefit your life immensely.
High-Rated Senior Medical Center in Lantana 
Do you want to know the qualities of a high-rated senior medical center in Lantana? It is a center with numerous positive reviews and feedback from past patients. Primary Medical Care Center has achieved lots of positive ratings because of our dedication to enhancing the health of our patients. In addition, we impose strict safety regulations and ethical principles to ensure our patients get the treatment they deserve.
Our services include:
On-site Diagnostic
Nutritionist
Door-to-Doctor
Primary Care
Cardiology
Dental Services
Rehab Center
Home Health Care
Massage Therapy
Comprehensive wellness plan
Do you require any of these services? Would you like to find out whether you do? Please make an appointment to come to our facility in Lantana and receive a physical examination. Then we'll know which of our medical services will benefit you the most.
Over 20 Years of Experience Treating Seniors in Lantana
Seniors have sought treatment for their injuries and illnesses at Primary Medical Care Center for over 20 years. Our medical staff has diverse medical knowledge and skills to make it easier to treat patients. We all work together to solve problems and create customized treatment plans for each patient's health. The ultimate goal is to reduce the pain and discomfort of our patients.
Of course, health is one significant challenge facing seniors in Lantana. The other challenge is figuring out how to pay for senior health care services while living on a fixed income. If you fall into this category, you'll be happy to know that Primary Medical Care Center accepts insurance plans from the following carriers:
Aetna
Careplus
Simply
WellCare
AllWell
HealthSun
Florida Blue
MMM
Medica Health
Humana
Preferred Care Partners
Sunshine Health
AvMed
Devoted
Are you on a fixed income or limited budget and don't know how to pay for healthcare? Sometimes insurance may not cover all your out-of-pocket expenses, or perhaps you don't have any insurance at all. Our staff can help you find an affordable way to get the treatment you need in these situations. 
The Best Registered Nurses and Licensed Doctors for Seniors in Lantana
Primary Medical Care Center specializes in a wide variety of treatment solutions, such as home health services, rehabilitation, automobile accident injuries, nutritional counselling, slip and fall injuries, and so much more.
When you live out the rest of your senior years, why not live them out feeling better? An annual physical examination doesn't take much effort and could save your life. If we spot any impending health problem inside you, we will work to eliminate it as soon as possible.
Call (561) 250-0000 or email us here to make an appointment to visit our senior medical center near Lantana.