Primary Medical Care Center for Seniors Las Olas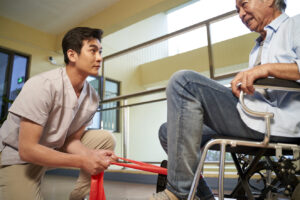 Seniors have to take their health and wellness seriously. Older age can make you more susceptible to illnesses and injuries if you are not careful. If you want to stay healthy and safe, you should speak with a medical professional who specializes in senior care.
Primary Medical Care Center operates one of the largest and most sophisticated senior medical care centers in Las Olas. We have an entire staff of medical professionals, specialists, nurses, and primary care physicians who are experts in treating and caring for senior patients.
Are you a senior with an illness or injury? If so, you can improve your comfort and wellbeing by making an appointment to see one of our senior medical care professionals. Simply call our office at (954) 289-0000 or book an appointment with us here to schedule your appointment and learn more about our senior care services.
A Premier Senior Medical Center in Las Olas 
Primary Medical Care Center has spent over 20 years establishing itself as a premier senior medical center in Las Olas. We earned our reputation from the thousands of seniors that we successfully treated during the last two decades.
Our senior care team always puts the needs of our patients first. We treat every senior patient with dignity, respect and empathy. Ethics and safety are two essential principles that you will find at our facility. We understand how difficult it can be for seniors to seek treatment and admit they have a problem. That is why we go out of our way to make our patients feel relaxed and comfortable the entire time they come to see our medical team. 
Here are the senior medical care services offered at our facility in Las Olas:
On-site Diagnostic
Dental Services
Primary Care
Cardiology
Rehab Center
Home Health Care
Massage Therapy
Wellness Classes
Nutritionist
Door-to-Doctor
Primary Medical Care Center accepts senior patients of any gender, race, ethnicity, and nationality. We even accept seniors with preexisting medical conditions and high risks to their health. You will never get turned away because of the current state of your health.
Our medical team will examine your preexisting medical conditions in order to customize an effective treatment plan for you. Every senior is different, so we believe in treating their specific ailments and risk factors to increase their comfort and wellbeing.
A Professional and Affordable Senior Medical Center in Las Olas 
Primary Medical Care Center offers professionalism and affordability at our senior medical center in Las Olas. We treat each patient with empathy, respect, decency and understanding. You don't have to let the current state of your health keep you down. When you come to our senior medical center in Las Olas, you will receive treatment from some of the top medical professionals in Florida.
Our senior care services are meant to be affordable and easy to access for seniors in Las Olas. All you need is a standard insurance policy from any one of the following carriers:
HealthSun
AllWell
MMM
AvMed
Florida Blue
Devoted
Medica Health
Sunshine Health
Aetna
Careplus
Simply
WellCare
Humana
Preferred Care Partners
Contact us if you have questions about the acceptability of your insurance policy at our facility. We can provide you with cost estimates on the senior care services that you need.
Best Doctors and Nurses for Seniors in Las Olas 
Jean B. Pierre MD and Dorothy Pierre ARNP are the founders and operators of Primary Medical Care Center in Las Olas. They bring their combined expertise as a medical doctor and board-certified family nurse practitioner to create a senior care environment that is welcoming and accommodating to senior patients. All of the medical staff at Primary Medical Care Center are trained to do the same. 
Would you like to make an appointment to visit our Las Olas facility? Call (954) 289-0000 or book an appointment with us here to contact our staff with your request.