Primary Medical Care Center for Seniors Parkland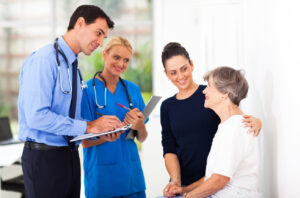 Primary Medical Care Center is a professional health care facility for senior citizens. We have a team of medical specialists, primary care physicians and medical practitioners who have extensive experience treating seniors. Our facility features some of the most advanced medical technology in the world. It allows us to diagnose and treat seniors with more accuracy, speed, quality, and reliability.
When you come to our senior medical center near Parkland, you will be in good hands. Our staff is warm, friendly, and empathetic to the current health conditions you face in your life. We will do everything possible to make you feel relaxed and comfortable when you visit our facility.
Would you like to make your first appointment to see a medical professional at Primary Medical Care Center? You can get started today by calling us at (954) 289-0000 or book an appointment with us here.
Highly Rated Senior Medical Center in Parkland 
Primary Medical Care Center has received excellent ratings and feedback from our patients. We always apply ethical principles to our senior care services so that every patient gets the best quality treatment possible. Our strict safety regulations ensure your absolute health and safety while you're under our treatment. So, you have nothing to worry about when you come to our senior medical center in Parkland.
Here is a list of the senior care services offered at Primary Medical Care Center:
Primary Care
Home Health Care
Massage Therapy
On-site Diagnostic
Door-to-Doctor
Dental Services
Wellness Classes
Nutritionist
Cardiology
Rehab Center
Most seniors need one or more of these services. But you don't have to know which services you need right now. Our doctors will determine which services can treat your health issues the best after performing the initial physical examination on you.
Make Primary Medical Care Center in Parkland Your Top Choice 
You can trust the medical knowledge and expertise of our doctors and staff. We have been treating seniors and helping them recover from illnesses and injuries for over 20 years. Our goal is to mitigate your painful and uncomfortable symptoms as much as possible. That way, you can go back to living a better quality of life with less pain and discomfort.
Primary Medical Care Center is the top choice of many seniors in Parkland. Our senior medical center is always available to assist seniors with their health and wellbeing. You don't have to pay substantial amounts of money for quality senior care treatment either. We offer affordable care options for seniors on fixed incomes and limited budgets.
We accept health insurance plans from the following carriers:
MMM
Preferred Care Partners
AvMed
Medica Health
Sunshine Health
HealthSun
Florida Blue
Devoted
Aetna
AllWell
Careplus
Simply
WellCare
Humana
Health insurance comes in handy when you have significant injuries or illnesses that require expensive medical treatment. You can trust our medical professionals to give you quality and inexpensive treatment solutions in these situations. We specialize in home health services, auto accident injuries, rehabilitation, nutritional counseling, and so much more.
Best Doctors and Nurses for Seniors in Parkland 
Our senior care medical services are available to any senior in Parkland. Health and safety should be your top priority as you live out your senior years. There is no telling how many more years you can add to your life with the proper health treatment. Even if you think you're healthy now, it would be wise to seek a physical examination at our medical center anyway. Then we can stop any arising health problem before it spreads and worsens.
Call (954) 289-0000 or book an appointment with us here at our senior medical center in Parkland.