Primary Medical Care Center for Seniors in Tamarac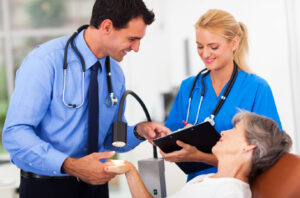 You won't find too many medical facilities as devoted to senior care as Primary Medical Care Center in Tamarac. We have a versatile staff of primary care physicians, registered nurses, medical specialists, and medical practitioners with extensive experience providing exceptional senior care. Our medical professionals can treat all kinds of medical conditions facing seniors the most.
We have medical specialists who offer the following senior care services:
On-site Diagnostic Testing
Cardiology Care
Dental Services
Nutritional Planning and Evaluating
Door-to-Doctor
Primary Health Care
Rehabilitation
Home Health Care
Massage Therapy
Primary Medical Care Center is equipped with advanced and innovative medical treatment technology. We use this technology to improve the effectiveness of our diagnostic testing and treatment techniques for seniors. You will appreciate the reliability, accuracy, and speed of our diagnostic and treatment services.
Are you ready to book your appointment to visit our doctors in Tamarac? Please call our staff at (305) 751-1500 or email us here.
Top-Rated Senior Medical Center in Tamarac
Primary Medical Care Center is one of the highest-rated senior medical centers in Tamarac. We have achieved many positive ratings and reviews from previous senior patients who benefited from our services. Our staff stays dedicated to improving the health, safety, comfort, and joy in the lives of seniors.
We have strict ethical principles and safety regulations to ensure our seniors get the highest quality treatment possible. That is why we have established a zero-tolerance policy when it comes to discrimination. Our medical staff will treat any senior who comes to our facility regardless of their health status, race, ethnicity, income, or sexual orientation.
Over Two Decades of Experience Treating Seniors in Tamarac
How many senior medical centers in Tamarac have over two decades of experience? Primary Medical Care Center has achieved this milestone because of our dedication to providing innovative senior care. Our doctors and nurses have a diverse range of skills and knowledge in various health care and medical fields. We all collaborate to create personalized treatment plans designed to improve the lives of our seniors. If our patients can go back to living independently, then we'll know we have achieved the results we wanted.
Most Insurance Plans Accepted at Primary Medical Care Center 
Are you a senior on a fixed budget in Tamarac? If so, you are not alone because most seniors rely on a fixed income to survive each month. Fortunately, we accept insurance from most of the carriers used in Tamarac.
Here is a brief list of the insurance companies we accept: 
Preferred Care Partners
Sunshine Health
AvMed
Devoted
Aetna
HealthSun
Florida Blue
MMM
Medica Health
Humana
Careplus
Simply
WellCare
AllWell
Health insurance can significantly reduce the cost of our primary care and specialized services. Depending on the terms of your insurance policy, you'll only have a small co-pay to worry about paying. Some insurance policies even cover 100% of the co-pay. Talk to your insurance carrier to find out more information about that.
The Best Licensed Medical Professionals for Seniors in Tamarac

Primary Medical Care Center has a fully qualified staff with all the necessary credentials in place. The diversity of their qualifications allows our facility to treat seniors in many different ways. We can perform home health care services, nutritional counseling, rehabilitation services, and treat automobile and slip & fall accidents injuries.
Are you ready to improve the quality of your senior years once and for all? Call (305) 751-1500 or email us here to schedule your appointment today.